The novel burbles along. The deeper I get the deeper it gets. Hope I can pull it off. I'm getting pretty sure of the title and I feel like I can divulge it. My novel in progress is called
Tribulation Camp
. Also, my main protagonist is now named Hadrian Haden. We'll see how long that sticks.
Here in Interior Alaska we got a head start on winter. The last two weeks of November took a nose dive, and we got down to minus 41. We broke six all-time record lows, five of them on consecutive nights. The photo above is of my wood yard. I'm having to buy firewood this winter, and what you see represents a two-cord delivery of 8-foot logs.
Last I heard, the Occupy Fairbanks diehards are still camped in the park and have maintained a continuous presence through the two weeks of extreme cold. In my last post I incorrectly identified the park as being a city park. It's actually a borough park (our boroughs are like your counties) and the official dealing with them is the borough mayor. The campers have two arctic tents with stoves. So far the mayor has resisted calls to clear the park and says the campers have 1st Amendment rights to assemble. Good for him.
I'm still working on the cover to "The Wedding Album" ebook. I started to feel like I was over-thinking it, and I'm still open to hiring a real illustrator when I can. In the meantime, I've spent countless hours browsing the sites with Creative Commons, public domain, or reasonably priced images including: Wikimedia, Flikr, Deviant Art. This last one,
Deviant Art,
is an amazing community of incredibly talented artists, many of whom I'd like to hire someday.
The last I posted, this was the stage the cover was at. (click on photos for larger size) I asked for and got valuable feedback from some of you. My main problem with it was that nothing about the image was science fictional. I did locate some Photoshop tools and filters I had been unaware of and spent some time sexing up the rings.
But in the end, the objection was the same, not SFnal enough. I kept browsing.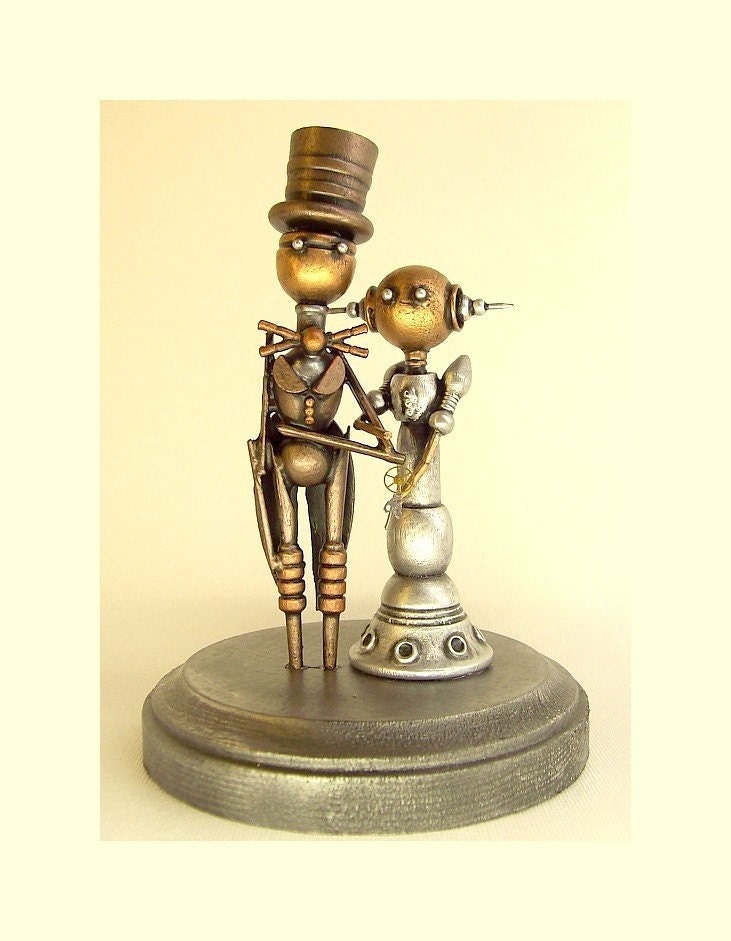 I found this wedding cake topper featuring elegant robots. I fell in love with it and tried to make it work as a cover image. But it's just too whimsical for the story, and I had to let it go. If I ever get married again, I'm sure to have a robot cake topper. I encourage you to visit the online store of the artist,
Pete,
and see all the other robotic accessories he sells.
I took another tack and the image above is the current iteration of the cover image. I'm liking it a lot. It evokes the story quite nicely. And I think it says science fiction. What do y'all think?